Post by Dominicanese on Dec 7, 2017 15:12:40 GMT
Bolivia.
Culture:
Just before the Spanish invasion, parts of Bolivia were incorporated into Inca territory, meaning that some of the indigenous groups, including the Quechua and Aymara people, are descendants of the Incas. The Spanish colonized the area in the 16th century and suppressed many indigenous traditions and introduced others.
Cuisine:
Diversity is the word that best describes the Bolivian cuisine. This fact is due to the climate, mainly. The environment determined a certain lifestyle, which further means a certain style of cooking. Foreigners can be surprised by the multitude of dishes. Although the main ingredients are fish, meat and poultry, the Bolivians have used their creativity and they have created unique foods, in taste and in look. Bolivians from the higher regions have separate cooking styles and recipes that may differ from the ones that are specific to the lower regions. The altitude requires a certain diet.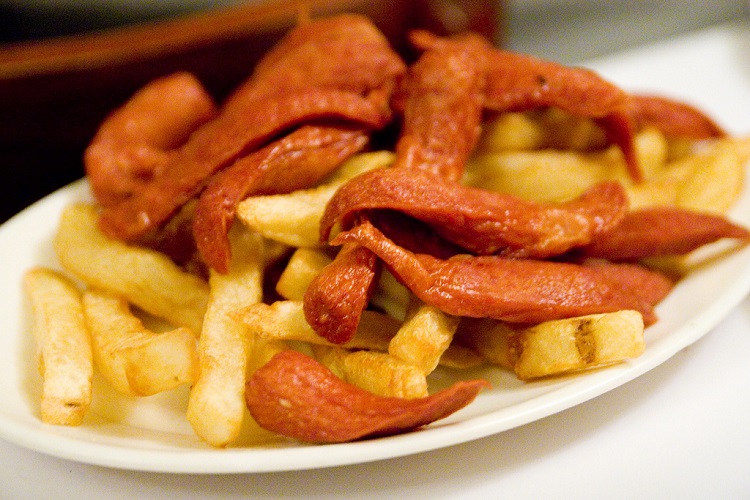 Bolivians mainly use meat in their dishes. Usually, the ingredients determine a certain preparation method. Meat is usually boiled or fried. The cooking techniques used in the Bolivian cuisine are not special, whatsoever. People use the same techniques as the majority of the world. The methods resume to boiling, frying, seasoning, roasting, salting, seasoning and steaming. The foods are not the only ones that are prepared in a certain manner. Also, the beverages, such as the Bolivians coffees, know many preparation methods. The secret of a national cuisine is the creativity and the usage of the local ingredients in various combinations and in certain quantities.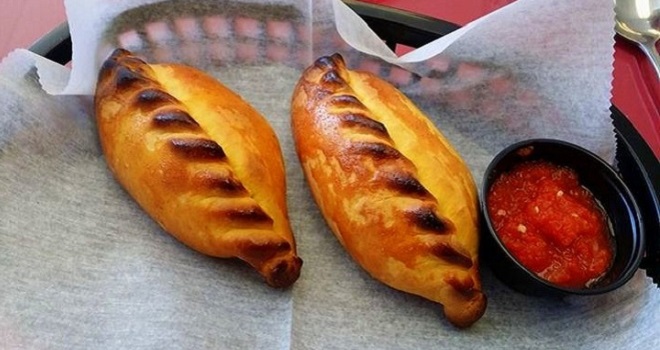 The equipment that is used in a Bolivian cuisine does not differ from the usual equipment used in Europe or in the United States of America. For the cakes, Bolivians use trays, foods that require frying are prepared in pans, beverages are prepared and consumed using the usual tools, and so forth. Temperature measurement devices are also used. If it is intended to prepare Bolivian dishes, the ingredients should be added in precise quantities. This determines the need for a food scale. Also, usual tools, such as knives, forks, tablespoons and teaspoons prove to be useful. As spices are used in large amounts, tools for roasting, grinding and spreading these condiments might also be needed. Most Bolivian dishes don't require you to purchase any special tools. However, having a coffee grinder helps with roasting and grinding spices and maximizes their volatile oils, which, in turn, provides your food with more flavor.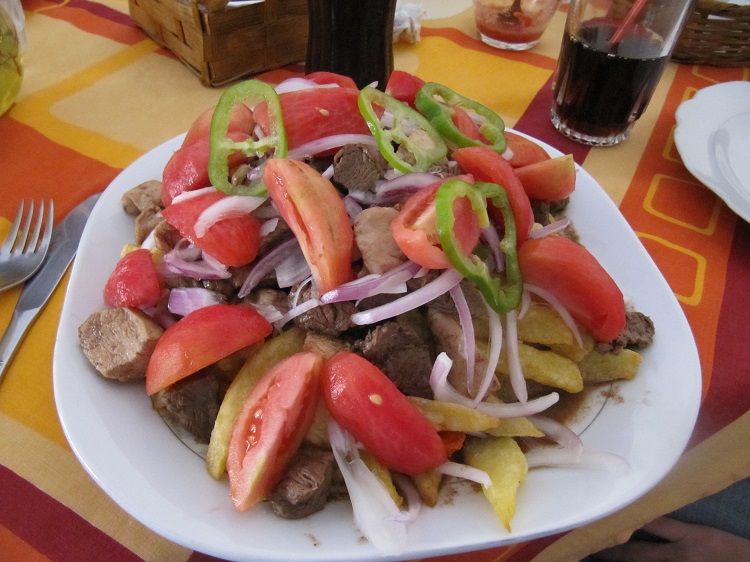 The majority of the Bolivian festivals are not based on food traditions. However, each festival is a good occasion for the local people to display their traditional dishes. It is presumed that people from other places come to the event, and it is very likely to try the local cuisine.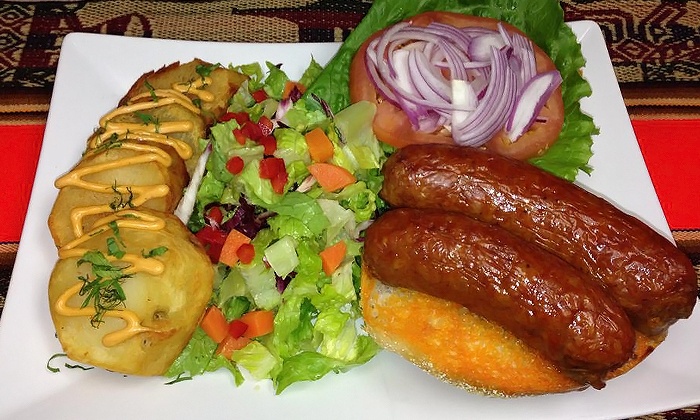 One of the dishes that is related to a tradition is picana. This food is made from Beef or Veal, prepared with wine and herbs and served along with steamed potatoes. Puchero is usually consumed during the carnival. This is the name given to a soup which contains various types of meats, rice and vegetables. The carnival is Bolivia's greatest festival and it is organized each year in the main plazas of the big cities. It is not a food oriented event, but it lasts for a week or for 8 days in some cities – plenty of time for the tourists to enjoy the local specialties.
Music:
The music of Bolivia has a long history. Out of all the Andean countries, Bolivia remains perhaps the most culturally linked to the indigenous peoples. Like most of its neighbors, Bolivia was long dominated by Spain and its attendant culture. Even after independence, Bolivian music was largely based on European forms. In 1952, a revolution established nationalistic reforms which included cultural and political awareness of the Aymara and Quechua natives. Intellectuals in the country began wearing ponchos and otherwise associating themselves with native cultures, and the new government promoted native folklore by, among other methods, establishing a folklore department in the Bolivian Ministry of Education.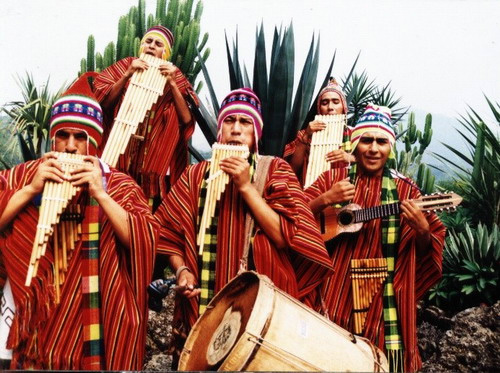 Los K'jarkas consists of 3 brothers, the Hermosas, who play primarily Huayño or, more rarely, sayas. These are both dance music influenced both by native forms as well as African music imported to Bolivia with slavery. Los K'jarkas are known internationally for their Caporales classic "Llorando se fue", which was adopted and transformed to the popular beginning of the lambada dance craze of the 1980s, along with forró and carimbo in northern Brazil. The song was popularized by a French group, resulting in a successful lawsuit from the Hermosa brothers. Kalamarka was founded in 1984 by Hugo Gutierrez and Rodolfo Choque. They fusion folk instruments such as Zampoña, Quena, Charango and Bombo with modern instruments, creating a beautiful musica andina. Their famous songs are 'Cuando Florezca el Chuño' and 'Ama, Ama, Amazonas'. In the 1980s, Chilean nueva canción was imported to Bolivia and changed into canto nuevo, which was popularized by performers like Emma Junaro.
Ethnic Racial Composition:
* 62% Amerindian
* 30% Mestizo
* 5% White
* 2% Zambo
* 1% Black
People:
Bolivians (Spanish: Bolivianos) are the people that inhabit the Plurinational State of Bolivia. Amerindians lived in what is now called Bolivia for several millennia before the Spanish Conquest in the 16th century. Spaniards mixed with enslaved Africans in steady numbers, mixing widely with each other and with indigenous peoples. Today, the vast majority of Bolivians are Indigenous.


According to a genetic study done on Bolivians, average values of Native American, European and African ancestry are 86%, 12.5%, and 1.5%, in individuals from La Paz and 76.8%, 21.4%, and 1.8% in individuals from Chuquisaca; respectively.
Languages:
Spanish and over 36 different Indigenous languages are the official languages of Bolivia. Bolivia has great linguistic diversity as a result of its multiculturalism. The Constitution of Bolivia recognizes 36 official languages besides Spanish: Aymara, Araona, Baure, Bésiro, Canichana, Cavineño, Cayubaba, Chácobo, Chimán, Ese Ejja, Guaraní, Guarasu'we, Guarayu, Itonama, Leco, Machajuyai-Kallawaya, Machineri, Maropa, Mojeño-Ignaciano, Mojeño-Trinitario, Moré, Mosetén, Movima, Pacawara, Puquina, Quechua, Sirionó, Tacana, Tapieté, Toromona, Uru-Chipaya, Weenhayek, Yaminawa, Yuki, Yuracaré, and Zamuco.

Spanish is the most spoken official language in the country, according to the 2001 census; as it is spoken by more than 60% of the population. All legal and official documents issued by the State, including the Constitution, the main private and public institutions, the media, and commercial activities, are in Spanish.

The main indigenous languages are: Quechua (21.2% of the population in the 2001 census), Aymara (14.6%), Guarani (0.6%) and others (0.4%) including the Moxos in the department of Beni.

Plautdietsch, a German dialect, is spoken by about 70,000 Mennonites in Santa Cruz. Portuguese is spoken mainly in the areas close to Brazil.

Bolivian Spanish has over five different regional dialects throughout the country such as Andean, Camba, Chapaco, Valluno, and Vallegrandino spanish. Bolivian Andean Spanish stems from Castillian, Andaluzian, and Canarian Spanish with influences from Indigenous languages. Camba Spanish stems from Andaluzian Spanish with strong influences from Indigenous languages, as well as minor influences from Portuguese and Arabic. Chapaco Spanish stems from Andaluzian and Castillian Spanish with influences from Indigenous languages. Valluno Spanish is technically a Creole like dialect that is a mixture of Spanish and Quechua spoken in the Valleys of Bolivia. Vallegrandino Spanish is similar to Chapaco Spanish but more Castillian Spanish based with same influences such as Indigenous languages and Arabic.
Religion:
The Roman Catholic church has a dominant presence in religion in Bolivia. While a vast majority of Bolivians are Catholic Christians, a much smaller portion of the population participates actively.
Economy:
The Bolivian economy has had a historic pattern of a single-commodity focus. From silver to tin to coca, Bolivia has enjoyed only occasional periods of economic diversification. Political instability and difficult topography have constrained efforts to modernize the agricultural sector. Similarly, relatively low population growth coupled with low life expectancy and high incidence of disease has kept the labor supply in flux and prevented industries from flourishing. Rampant inflation and corruption also have thwarted development, but in the early twenty-first century the fundamentals of its economy showed unexpected improvement, leading major credit rating agencies to upgrade Bolivia's economic rating in 2010. The mining industry, especially the extraction of natural gas and zinc, currently dominates Bolivia's export economy. Over 60.1% of Bolivians live in poverty and 37.7% in extreme poverty.
Sports:
Football (Soccer) heads the list of favourite sports. Bolivia also advocates female wrestling which has gained an immense following in recent years.
Videos: