Post by Dominicanese on Jan 16, 2018 18:55:45 GMT
Vietnam.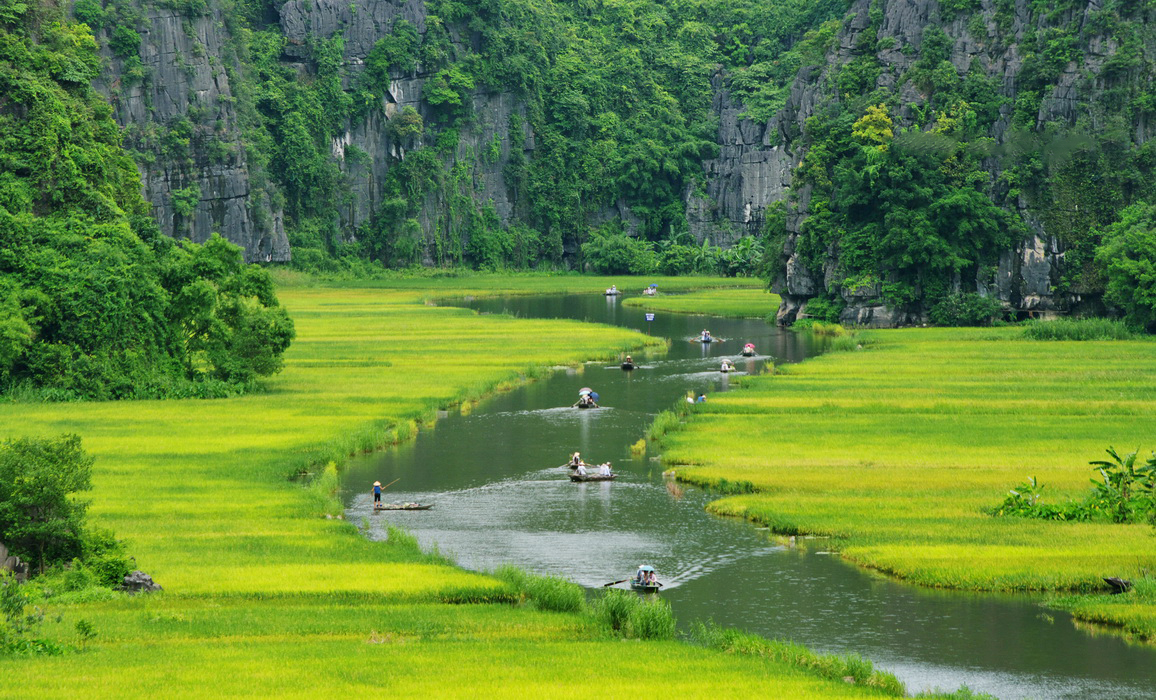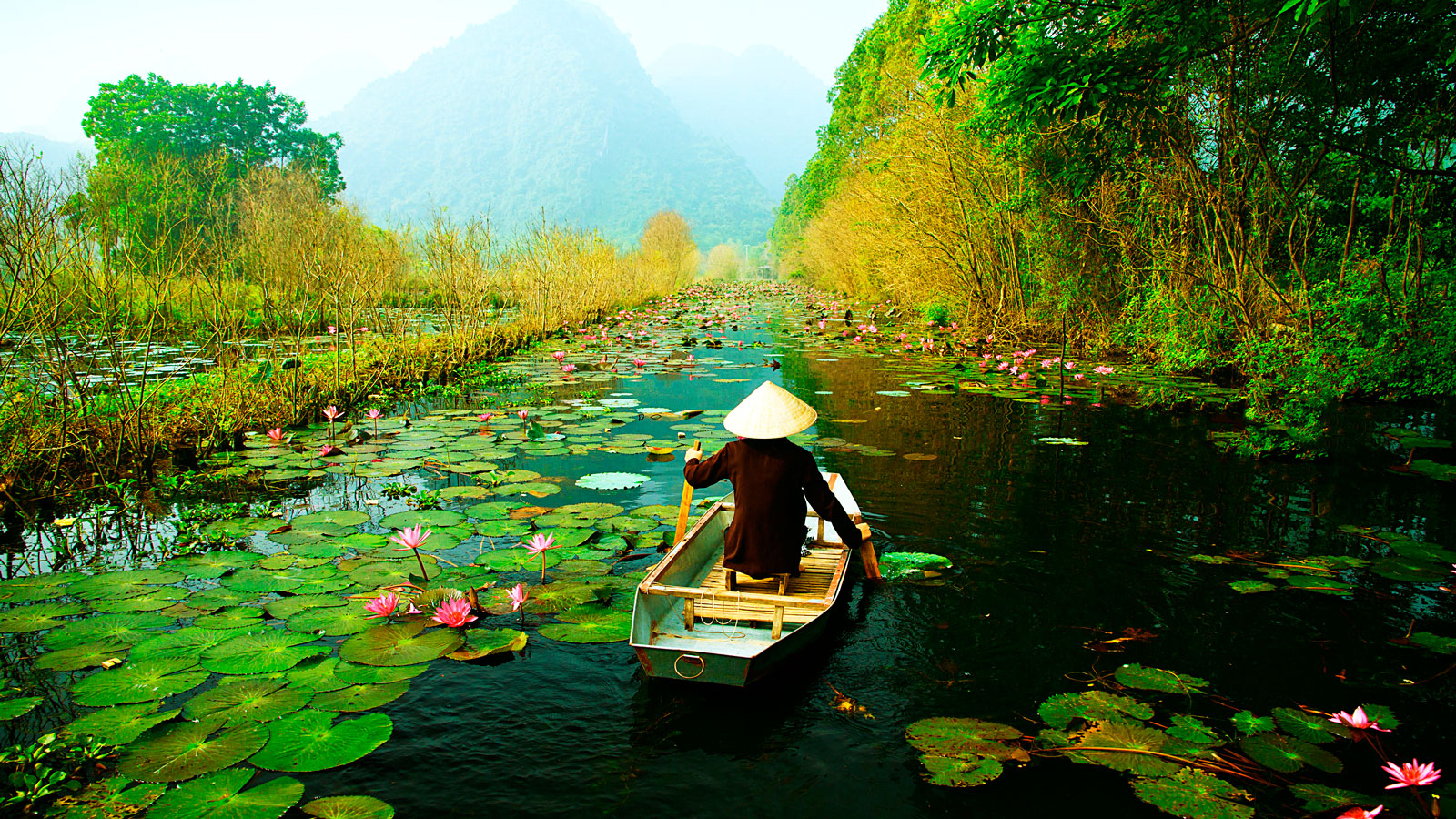 Culture:
The culture of Vietnam is one of the oldest in Southeast Asia, with the ancient Bronze age Đông Sơn culture being widely considered one of its most important progenitors. Due to a millennium of Chinese rule, Vietnam was heavily influenced by Chinese culture in terms of politics, government, Confucian social and moral ethics, and art. Vietnam is considered to be part of the East Asian cultural sphere.
Cuisine:
Rice is the staplefood in the Vietnamese cuisine as well as noodles made of rice. The rice noodles can be served from breakfast to dinner in the Vietnamese diet. The rice noodles are prepared in soups or even in meat dishes served served fresh or dried and may have different shapes. The Vietnamese diet is rich in vegetables and herbs such as cucumbers, bean threads, sprigs of basil, hot pepper, mint and coriander. Vietnamese cuisine is a reflection of its culture, traditions and history. In Vietnam there are two big rivers between which lies a chain of mountains. The Red River Delta is actually "the rice basket" of the Vietnamese people. The Mekong Delta produces rice, fruits and vegetables. As Vietnam used to be a Chinese colony, the main religions are Confucianism and Buddhism. The cuisine from North Vietnam has a deep Chinese influence, that's why the soy sauce is used in preparing almost any dish in Northern Vietnam.


The fish sauce, named "Nuoc Mam", is the most representative Vietnamese ingredient. The most used cooking method in the Vietnamese cuisine is simmering. The Royal tradition identified in the central region of Vietnam is that all the small dishes are placed on the table at once. In the south region of Vietnam, the dishes are larger but not so many as in the central region. The hot chilies, some sweet fruits, vegetables are sometimes prepared together in delicious meat dishes. The preparation methods aren't difficult or sophisticated. All three main meals of the day usually contain noodles. Vietnamese food is popular in France and the United States. Vietnamese cuisine is an extremely healthy one; not only the vegetarian dishes, but also the meat ones are rich in fresh vegetables, flavorful herbs, and small amounts of meat or oil. Noodle Soups are served for breakfast. The noodle soups usually contain meat cubes, cilantro, basil, lime juice or slices, garlic sauce and green onions. There are Vietnamese soups served as main courses and are served in small portions and they are called "sup".


Vietnamese cuisine is famous for its fresh and healthy meals, and is known as the Asian "Light Cuisine". The Vietnamese dishes are rich in fresh vegetables and herbs, noodle dishes, grilled foods and light fruit deserts served with tapioca or rice with Sugar. It is composed of low fats dishes, being one of the healthier cuisines of the world. The cooking contains mainly Cantonese, Malay, Thai, and a bit of French elements. There are some regional differences, for example, in the Southern region of Vietnam; the region contains a great variety of seafood dishes. In the Northern region of Vietnam, beef dishes are very popular and in the center of Vietnam, the dishes have major influences from the ancient Royal cuisine. A typical dinner contains rice noodle soups, fresh greens and vegetables, rice paper served with dipping sauce, meat dishes, seafood dishes and hot tea. The cooking methods aren't difficult at all and there is no need for special, sophisticated cooking equipment. The basic ingredients used in preparing Vietnamese dishes are: fish sauce, ginger, garlic, green onions, lemongrass, coconut milk and rice noodles. Rice is the most important element in Vietnamese cuisine and is used as the main ingredient in most courses. "Nuoc Mam" is the Vietnamese condiment added to most dishes. The "Fish Sauce" is made of salt and fermented fish.


The most used cooking method in the Vietnamese cuisine is simmering. For the Vietnamese Spring Rolls which are made of rice flour, tapioca flour, eggs, Sugar, salt, warm water, minced Pork, carrots, yam, shrimps, crab meat, spring Onion, coriander, garlic, shallot, ground white pepper, Chicken seasoning powder, salt, Sugar, egg, wood ear mushrooms, lettuce leaves, Thai basil, mint, cucumber and fish sauce, the cooking methods are basic one such as stuffing, simmering and frying. The first step in preparing this Vietnamese dish is to combine the net wrap ingredients and to leave them for about 2–3 hours. The oil is heated and then the spring rolls are added to fry.


Vietnamese cooking doesn't require special, sophisticated equipment for cooking traditional dishes. The basic equipment of a kitchen: soup ladles, food pans, or mugs, ovens, grills, saucepans, woks and the right ingredients are sufficient for preparing a Vietnamese dish. For example, in preparing the fried rice with Sausage, shrimp and crab named "Com Chien Thap Cam", the main ingredients are: long grain white rice, Chinese mushrooms, Chinese sausages, raw shrimp, vegetable oil, onions, fish sauce, crab meat, eggs and scallions. The cooking equipment used in preparing this delicious dish is basic: a sharp knife, a large pot, a large bowl, a wok, an oven and a fridge. The preparation method goes like this: the rice needs to be prepared a day before and stored in the refrigerator overnight. The Chinese mushrooms are put into a small bowl with water in which they will be kept for at least 20 minutes. The mushrooms need to be rinsed and sliced into thin strips. The onions needs to be chopped, the scallions washed, trimmed and cut into small pieces. The shrimps need to be shelled and chopped, the sausages cut and fried over moderate heat. All ingredients are mixed together and cooked for about five minutes.


The Vietnamese food culture is rich in traditional foods and customs. There are several Vietnamese soup customs, such as: the noodle soup needs to be served first at breakfast, in big bowls. The Vietnamese noodle soup may contain meat cubes, seafood, fresh green and vegetables such as bean sprout, cilantro, basil, lime slices, spring onions or chili peppers. Most Vietnamese dishes need to be spiced with the traditional fish sauce called "Nuoc Mam", chili and garlic sauce or "hoisin" sauce. The rice noodles are mixed with vegetables, herbs, raw meat and seafood and they are all cooked in the broth. "Pho" means "your own bowl" and it became very popular in the United States. "Pho" is actually the noodle bowl which is the only Vietnamese dish that is not shared or passed around like all the other dishes when eating together. Vietnamese cuisine is very popular in some European countries such as France, Germany or Poland and also in Australia, Canada and in the United States. That's why Vietnam is always invited to take part at various International food festivals. There are also national food festivals during which the Vietnamese people are celebrating the history, culture, culinary habits, enjoying the dishes prepared by talented cooks.
Music:
Traditional Vietnamese music is highly diverse and syncretistic, combining native and foreign influences. Throughout its history, Vietnam has been most heavily influenced by the Chinese musical tradition, as an integral part, along with Korea, Mongolia and Japan. The former Indochinese kingdom of Champa also exerted some influence (albeit more minor when compared to China) on Vietnam's traditional music.


Traditional Vietnamese music varies between the country's northern and southern regions. Northern classical music is Vietnam's oldest musical form, and is traditionally more formal. The origins of Vietnamese classical music can be traced to the Mongol invasions of the 13th century, when the Vietnamese captured a Chinese opera troupe. Throughout its history, Vietnamese has been most heavily impacted by the Chinese musical tradition, as an integral part, along with Korea, Mongolia and Japan. Nhã nhạc is the most popular form of imperial court music. Chèo is a form of generally satirical musical theatre. Xẩm or Hát xẩm (Xẩm singing) is a type of Vietnamese folk music. Quan họ (alternate singing) is popular in Hà Bắc (divided into Bắc Ninh and Bắc Giang Provinces) and across Vietnam. Hát chầu văn or hát văn is a spiritual form of music used to invoke spirits during ceremonies. Nhạc dân tộc cải biên is a modern form of Vietnamese folk music which arose in the 1950s. Ca trù (also hát ả đào) is a popular folk music. "Hò" can not be thought of as the southern style of Quan họ. There are a range of traditional instruments, including the Đàn bầu (a monochord zither), the Đàn gáo (a two-stringed fiddle with coconut body), and the Đàn nguyệt (a two-stringed fretted moon lute).
Ethnic Racial Composition:
* 85.7% Kinh
* 1.9% Tay
* 1.8% Thai
* 1.5% Muong
* 1.5% Khmer
* 1.2% Mong
* 1.1% Nung
* 5.3% Others
People:
The Vietnamese people or the Kinh people (Vietnamese: người Việt or người Kinh), are an ethnic group originating from present-day northern Vietnam. They are the majority ethnic group of Vietnam, comprising 86% of the population at the 1999 census, and are officially known as Kinh to distinguish them from other ethnic groups in Vietnam. The earliest recorded name for the ancient Vietnamese people appears as Lạc.


Although geographically and linguistically labeled as Southeast Asians, long periods of Chinese domination and influence have placed the Vietnamese culturally closer to East Asians, or more specifically their immediate northern neighbours, the Southern Chinese and other tribes within South China. The word Việt is shortened from Bách Việt, a name used in ancient times. Nam means "south".
Languages:
The official national language of Vietnam is Vietnamese (Tiếng Việt), a tonal Mon–Khmer language which is spoken by the majority of the population. In its early history, Vietnamese writing used Chinese characters. In the 13th century, the Vietnamese developed their own set of characters, referred to as Chữ nôm. The folk epic Truyện Kiều ("The Tale of Kieu", originally known as Đoạn trường tân thanh) by Nguyễn Du was written in Chữ nôm. Quốc ngữ, the romanized Vietnamese alphabet used for spoken Vietnamese, was developed in the 17th century by the Jesuit Alexandre de Rhodes and several other Catholic missionaries. Quốc ngữ became widely popular and brought literacy to the Vietnamese masses during the French colonial period.

Vietnam's minority groups speak a variety of languages, including Tày, Mường, Cham, Khmer, Chinese, Nùng, and H'Mông. The Montagnard peoples of the Central Highlands also speak a number of distinct languages. A number of sign languages have developed in the cities.

The French language, a legacy of colonial rule, is spoken by many educated Vietnamese as a second language, especially among the older generation and those educated in the former South Vietnam, where it was a principal language in administration, education and commerce; Vietnam remains a full member of the Francophonie, and education has revived some interest in the language. Russian – and to a much lesser extent German, Czech and Polish – are known among some Vietnamese whose families had ties with the Soviet bloc during the Cold War. In recent years, as Vietnam's contacts with Western nations have increased, English has become more popular as a second language. The study of English is now obligatory in most schools, either alongside or in many cases, replacing French. Japanese and Korean have also grown in popularity as Vietnam's links with other East Asian nations have strengthened.
Religion:
Long-established religions in Vietnam include the Vietnamese folk religion, which has been historically structured by the doctrines of Confucianism and Taoism from China, as well as a strong tradition of Buddhism (called the three teachings or tam giáo). According to official statistics from the government, as of 2014 there are 24 million people identified with one of the recognised organised religions, out of a population of 90 million. Of these, 11 million are Buddhists (12.2%), 6.2 million are Catholics (6.8%), 4.4 million are Caodaists (4.8%), 1.4 million are Protestants (1.6%), 1.3 million are Hoahaoists (1.4%), and there are 75,000 Muslims, 7,000 Bahá'ís, 1,500 Hindus and other smaller groups (<1%). Traditional folk religions (worship of gods, goddesses and ancestors) have experienced a rebirth since the 1980s.


According to estimates by the Pew Research Center in 2010, most of the religious Vietnamese practiced folk religions (45.3%). 16.4% were Buddhists, 8.2% were Christians (mostly Catholics), and about 30% were unaffiliated to any religion. Officially, the Socialist Republic of Vietnam is an atheist state as declared by its communist government.
Economy:
The economy of Vietnam is the 47th-largest economy in the world measured by nominal gross domestic product (GDP) and 35th-largest in the world measured by purchasing power parity (PPP). The country is a member of APEC, ASEAN and the WTO. Since the mid-1980s, through the Doi Moi reform period, Vietnam has made a shift from a highly centralized planned economy to a mixed economy that uses both directive and indicative planning through five-year plans. Over that period, the economy has experienced rapid growth. In the twenty-first century, Vietnam is in a period of being integrated into the global economy. Almost all Vietnamese enterprises are small and medium enterprises (SMEs). Vietnam has become a leading agricultural exporter and served as an attractive destination for foreign investment in Southeast Asia. In a similar fashion to other Communist countries after the end of the Cold War, the planned economy of Vietnam lost the momentum for productivity and sustainable growth. In the current period Vietnam's economy relies largely on foreign direct investment to attract the capital from overseas to support its continual economic rigorousness. Foreign investment on the luxury hotel and sector and resorts will rise to support high-end tourist industry. According to a forecast by PricewaterhouseCoopers in February 2017, Vietnam may be the fastest-growing of the world's economies, with a potential annual GDP growth rate of about 5.1%, which would make its economy the 20th-largest in the world by 2050. Vietnam has been named among the Next Eleven and CIVETS countries. Despite economic achievement following Doi Moi, there exist issues that cause many analysts and researchers to remain worried about the economic slowdown in the country in recent years. About 20% of the population lives in poverty.
Sports:
The Vovinam and Bình Định martial arts are widespread in Vietnam, while soccer is the country's most popular team sport. Its national team won the ASEAN Football Championship in 2008. Other Western sports, such as badminton, tennis, volleyball, ping-pong and chess, are also widely popular.
Videos: